Quality
CV Axle Express uses only the highest quality cv boots, clamps, grease and internal components offered to insure the lowest comeback rate possible on all cv axles and cv joints. We can replace your torn cv boot with a brand new one of higher quality for low prices.
Service
CV Axle Express has consistently done everything in our power to make sure you get your parts in a timely manner. We are known to work late, early whenever is necessary to fit you and your customers needs. If it can be done, we can do it!
Selection
Our business has a large inventory of complete axles, outer CV joints, cv boots, components and cores ready to build. We can also offer same day service on remanufactured and new axles for those hard to find axles.
Have your axle rebuilt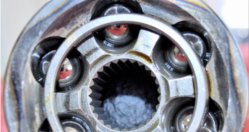 Purchase an axle or place your order to have yours rebuilt.
Place Order >>
Address
740 W 1700 S
Unit #10
Salt Lake City, Utah 84104
Hours
Monday - Friday
8:30am to 4pm
Mountain Time
Contact Us
sales@cvaxleexpress.com
800-999-AXLE - Toll Free
801-466-5777