Local - 801- 466-5777
Toll free - 800-999-AXLE
Order an axle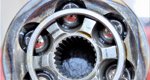 Purchase an axle or place your order to have yours rebuilt.
Place Order >>
Remanufacturing service
If your model of axle is not in stock you can ship us your axle, it will be rebuilt then shipped back next day.
Retail
If your axle is in stock, it can be packaged and shipped same day.
Axle components
We also sell cv boot kits (grease, boot and clamps). You can also send in a cv joint for remanufacturing.